RV OWNERS
FEBRUARY 9TH, 2021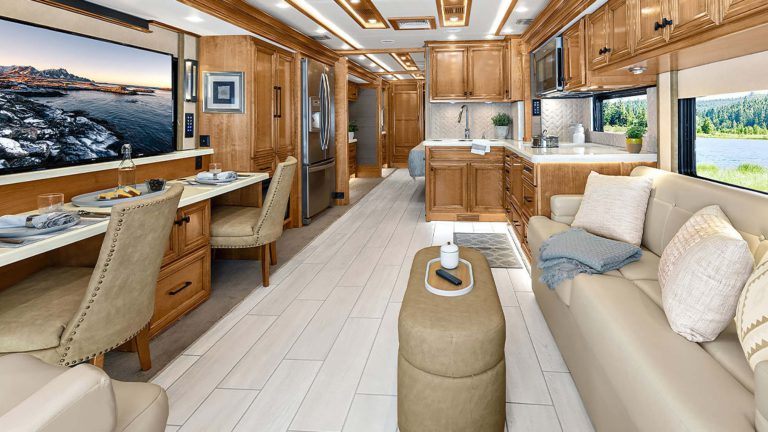 What would you do if you won the lottery? Many RVers are quick to answer that they would purchase a better motorhome or travel trailer; potentially even a luxury RV. That said, not many campers know what RV brand they might be looking at. That's where this piece comes into play.There are a number of fantastic luxury RV manufacturers out there. Below, we will list our top 8 picks, split between 4 motorhome makers and 4 trailer companies. Whether you're actually looking to purchase a luxury RV or just daydreaming about "someday," these incredible motorhome and trailer brands are sure to have you drooling.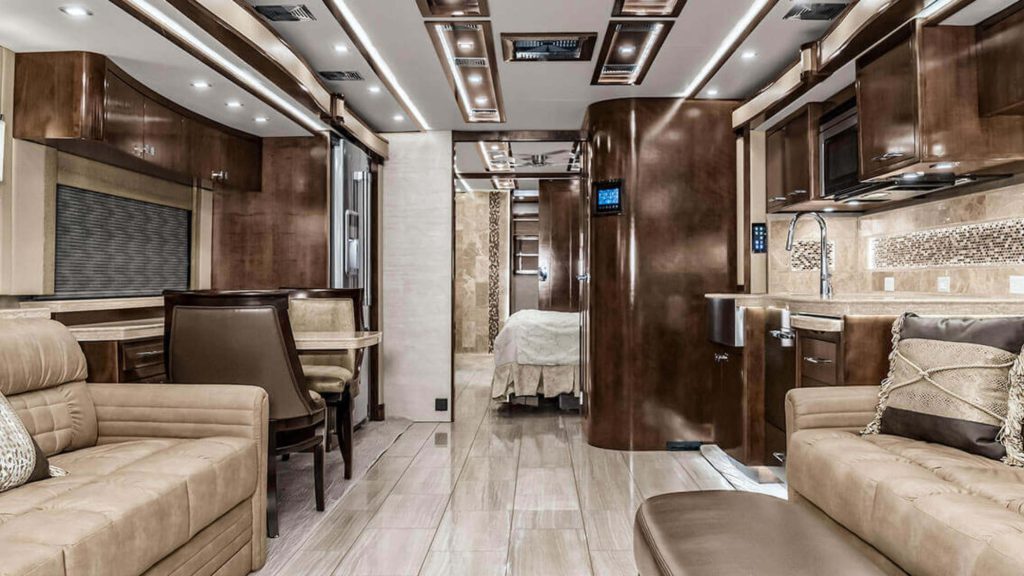 Top 4 Luxury Motorhome Brands
First, let's talk about luxury motorhomes. Because the vast majority of campers out there would choose a motorhome if money played no part in the decision making, most luxury RV brands are in the business of making motorhomes. Therefore, we had a tough time narrowing our options to only four luxury motorhome manufacturers. We did manage it however, and our top picks are listed below.
Newmar
While Newmar doesn't list all of its RVs as "luxury" units, we think everything they have to offer is top-of-the-line. That said, those that they do list as "luxury" really shine as incredible rigs. These are incredibly well-thought-out, and every single detail is just perfect.
Of the Newmar luxury RVs, the "King Aire" is, in our opinion, the most luxurious. This class A motorhome features tasteful, modern decor, heated seating and floors, stainless steel appliances (including an enormous fridge), a bedroom fireplace, and more.
Newell Coach
Newell Coach is another wonderful luxury RV manufacturer. This company builds custom motorcoaches that are sure to please even the most discerning of RVers, but does also offer some brand new pre-built inventory for those who need their motorhome in a hurry.
Some of the options offered by Newell Coach include top-of-the-line entertainment systems, floor plans to suit every need, and appliances such as garbage disposals, induction cooktops, full sized ovens, washers and dryers, and dishwashers.
Tiffin
A smaller, family-run business, Tiffin takes their time with each customer and each motorhome, ensuring they only put out the best of the best. Still, the company manages to offer luxury at a slightly lower price than the other options listed, something many RVers love.
Add-on features available from Tiffin include things like collision avoidance, in-dash navigation, a central vacuum cleaner, fireplaces, a two-door fridge, mattress upgrades, and more.
Marchi Mobile
Marchi Mobile creates a seriously odd-looking motorhome. That said, the "eleMMent Palazzo Superior" is also the most luxurious motorhome on our list.
This incredible RV looks something like a spaceship, and offers better stability and insulation than any other RV we've ever seen. With the push of a button, an automatic lift system raises up out of the body of the rig, creating a walled-in rooftop deck that is perfect for gathering with friends.
Different temperature zones can be set throughout the rig, and little upgrades such as a wine cabinet, ice maker, and king-size bed ensure the user lives in comfort even in the middle of nowhere.

Top 4 Luxury Trailer Brands
Of course, there's no reason a travel trailer or fifth wheel can't be luxurious too, and there are some luxury trailer brands on the market. In fact some of the luxury trailers out there are really amazing, and we would definitely consider choosing one of these over a motorhome in certain situations.
Here are our top luxury trailer picks.
Airstream
Perhaps the most well-known travel trailer company in the world, Airstream makes incredibly high quality products that many classify as luxury trailers. We do have to agree that the quality and comfort offered by an Airstream does land it a step ahead of most, earning it the top mention on our luxury trailer list.
One of the features you'll find in Airstream trailers is what they call Smart Control Technology. This allows you to control the lights, awning, A/C, and heater from a distance.
Other great features include stainless steel appliances, a heated shower floor and towel bar, handcrafted cabinetry, power blinds, and high quality furnishings.
Bowlus
A whole line of interesting-looking RVs, the Bowlus travel trailers are sure to catch your eye. These trailers are shiny like an Airstream, but with an unusual shape that we just love.
Currently, Bowlus offers three trailer models. Some of the features found in these models include a Pet-Flex system that monitors temperatures when you leave pets at home and includes slide-out pet bowls, a HEPA air filter with UVC, an incredible built-in water filtration system, GPS tracking, a smart brake controller, and more.
Living Vehicle
Want the ability to go completely off-grid and do some incredibly eco-friendly camping? If so, the Living Vehicle trailer is the perfect option for you. This trailer was designed by a couple with the intention of creating a self-supporting sustainable mobile living space.
This beautiful trailer includes everything you need to live off-grid, including a full solar setup, a 100-gallon freshwater tank, and a tankless water heater. There are also options to add more solar panels, an onboard water filtering sterilization, and more.
Space Craft
Finally, there is SpaceCraft. This company makes custom trailers that are absolutely incredible. The trailers are enormous, with some as long as 57 feet. Of course, those bigger rigs require the user to tow with a semi.
Options include king size beds, huge refrigerators, washer and dryer units, multiple bedrooms, and more. Best of all, these trailers offer an incredible amount of space, something most RVers truly value.
Image source: Tiffin
The Benefits of Purchasing a Luxury RV
Why would one need such a luxurious RV? Well, to be honest, nobody needs one of these rigs. That said there are definitely benefits to having a more luxurious camping setup.
These benefits include, but certainly aren't limited to, the following:
Better Build
Generally speaking, higher-end RVs are built better. This means the materials used to build these rigs are stronger and less likely to break or become damaged. It also means more care was likely taken during the building process, leading to a stronger, sturdier construction that will last longer than a typical RV might.
Higher Quality Furnishings
Luxury RVs also use higher quality furnishings. The couches, beds, chairs, and other furniture items will likely outlast the furniture in a run-of-the-mill RV. Additionally, this furniture is likely to be more comfortable.
Luxurious Amenities
The amenities in luxury RVs can be absolutely out of this world. Heated floors, full size bathtubs, intercom systems, marble countertops, and recessed ceilings are just a few of the amazing amenities you might find in one of these luxury rigs. These awesome features allow you to camp in style.
More Comfortable Ride
Lastly, it should be mentioned that luxury RVs tend to offer a more comfortable ride than other motorhomes. Collision avoidance systems help keep you safe, high-end navigation systems make it easy to know where to go, and more comfortable seating means fewer back aches.
Obviously, having a luxury RV would be a dream come true. However, nobody necessarily needs all of these amazing things to go camping, and a less luxurious but equally fun travel trailer or motorhome will still take you on plenty of fun adventures. Still, a person can dream—and in the meantime, that same person can continue to enjoy RVing adventures in whatever rig they can get their hands on.
Luxury Camping Accessories
Some RV accessories go above and beyond when you're looking to ride in style. Here are a few worth coveting.
1. Motorized Awnings
Image via carefreeofcolorado.com
From keeping your rig cool to creating a shady spot to kick back, there's no doubt that your RV's awning is important. But if you drive an older-model rig, you're likely sick of manually cranking it out and rolling it back up again every time you hit a new destination.
Motorized RV awnings make getting your patio set up as easy as pushing a button. And yes, you can install one on your existing RV as an aftermarket part — it's not even that expensive! For instance, the Rage ALEKO RVAWM10X8BRN13 Motorized Retractable RV Patio Awning is less than $800 on Amazon including shipping. Sure, you'll have to set it up… but once you do, you'll be done fussing with it for the foreseeable future.
2. WiFi Boosters
In today's all-digital-all-the-time age, staying online is more than a luxury — it's a necessity. But even if you stay in campgrounds that advertise free WiFi, you've likely noticed it's not as simple as just logging on.
Although the RV world is slowly catching up to the rest of the universe, many campgrounds still feature WiFi connections whose limited reach or bandwidth can leave you with a slllooooooowwwww connection. And that can be truly frustrating if you're trying to, say, stream your favorite shows.
That's why WiFi boosters, like the Winegard ConnecT, can be a total godsend. They're simple to install and can significantly boost your connection, or even provide a backup data connection if the WiFi should fail. You can find them for about $700 on Amazon — but if you're paying monthly rates for a digital hotspot, you probably already know that's a worthy investment!
3. Outdoor Entertainment Systems
Want to combine the great outdoors with the great indoors?
The best way is to install a rockin' outdoor entertainment system in your rig, so you can enjoy the game and the campfire at the same time. Hey, we never said this post was about compromises.
Whether you go all-out with an indoor/outdoor projector system or simply repurpose one of your basement cabinets into a flat screen TV armoire, bringing the big screen outside will help you make the most of your camping trip — especially next time there's a tailgating party!
Luxury Motorhomes
Here are some luxury accessories your motorhome might aspire to.
3. Smart Controls
How would you like to control everything in your rig, from your awnings to your slide outs, at the touch of a single button — or even your smartphone?
Technology's made this dream a reality… if you're willing to pay the price. Lippert's ONEControl system is available on a variety of 2018 model motorhomes, which means you've got to buy new if you want in. But once you see the list of all the control it puts in your hands, you may just be tempted!
4. Motorized Leveling
No one wants to hang out in a slanted rig, but leveling can be time- and energy-intensive… especially if you've got nothing better than plain old leveling blocks. Don't get us wrong, they get the job done, but it can take some experimenting.
It doesn't come cheap, but you can take the guesswork out of leveling by installing a motorized system that does it for you, all at the touch of a button. Of course, an aftermarket installation can cost a couple thousand dollars… but who can put a price on staying even?
Best Luxury Travel Accessories
Here are a few more luxury accessories for you to fawn over.
5. USB Wall Chargers
Looking for affordable gizmos that still feel like luxury accessories? Look no further than these specialized wall plates, which allow you to plug electric gadgets directly into the outlet. They're available for less than $10 a piece, but they still feel like a major upgrade. Don't you love when that happens?
7. Solar Power
Alright, alright… this is one luxury camping accessory you doubtless already know about. Heck, it's probably already on your list.
But although upgrading to solar is a hefty investment, it pays dividends down the line — especially when you throw in a set of lithium batteries. If you don't do it for the noise-free boondocking, do it for Mother Earth!
Glamping
With the right accessories, any camping trip can feel glammed-up and fabulous, no matter what kind of RV you drive.
Not quite done dreaming about your next upgrade? Check out the following posts here on the blog:
10 Camping Accessories that Will Make your Next RV Trip Even More Fun!

7 Game-Changing Kitchen Accessories Every RVer Needs

7 Tried and True RV Accessories Under $50
Go ahead — treat yourself. You've earned it!Looking for even more RVing tips and tricks — both during the purchase process and for your first camping excursion?